- Applicable Materials:
limestone, coal gangue, river pebble, granite, concrete, iron ore, etc.
Working principle
The impact crusher is a mechanical device that uses impact energy to crush materials with medium hardness. The rotor rotates at a high speed under the driving force of the motor, and the ore obtains huge kinetic energy from the process. After entering the action area of the hammer, the materials are hit and crushed by the hammer on the rotor, then thrown at a high speed to the counter-attack device and broken again. Finally, they are rebounded from the impacting liner back to the zone and crushed. This is a repeated process, and the materials are broken in the first, second and third impacting chambers. When crushed into being in required particle size, the materials are discharged from the discharge port. Users can adjust the gap between the counter-rack and the rotor to achieve the goal of changing the materials' discharging size and shape.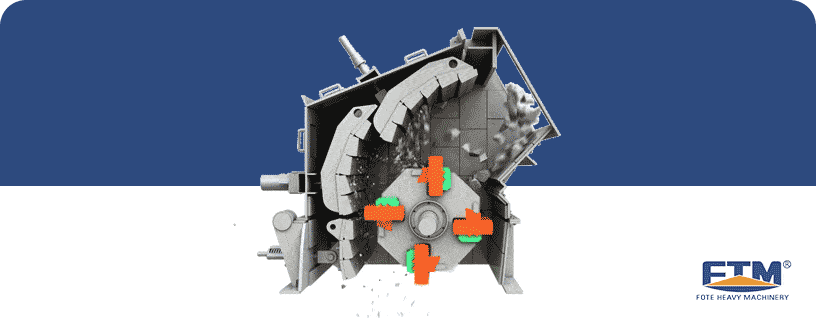 Advantages
Cost-effective and Energy-saving

The impact crusher has a large feeding inlet and a large crushing chamber. It can process those large and high-hardness materials and the finished products have little stone powder.

Optimum particle shapes

The gap between the impacting plate and the hammer can be optionally adjusted to effectively control the discharge granularity, thus producing beautiful finished products in a uniform size.

Unique Structure

The machine is rigid and compact, and its rotor has high inertia.

High Comprehensive Effect

High chrome hammer is resistant to impact and wear and provides large impacting force.
p

rice

There are a lot of factors exerting an influence on the price of the impact crusher such as model, specifications, parameters and processing materials. Therefore, customers should take many factors into account when purchasing an impact crusher with high cost-performance.

Fote's impact crusher is credited with uniform particle size, low energy consumption, and stable operation. More importantly, it is cheaper than the cone crusher. All customers are welcome to inquire about the product price online or visit our factories for a purchase.

case
- The production line of crushing limestone in Egypt
limestone and bluestone

Capacity: 600 t/h
- a vibrating feeder
- a PE 1200×1500 jaw crusher
- two PF 1520 impact crushers
- 2 4YK3072 vibrating screen
- some belt conveyors
Quality is an essential factor when selecting the mining equipment. When I bought the first equipment three years ago, I visited a lot of factories and finally decided to choose Fote. Its machine shows high efficiency and low failure rate. Timely after-sales service and improved production costs make it perfect equipment for our needs.
Specifications
Impact Crusher

HX series impact crusher

HD German impact crusher

CI series impact crusher
| | | | | | | |
| --- | --- | --- | --- | --- | --- | --- |
| Model | Specifications (mm) | Feed Opening (mm) | Max.Feeding Size (mm) | Capacity (t/h) | Power (kw) | Dimensions(L×W×H) (mm) |
| PF-1007 | Φ1000×700 | 400×730 | 300 | 30-70 | 4P 37-45 | 2330×1660×2300 |
| PF-1010 | Φ1000×1050 | 400×1080 | 350 | 50-90 | 4P 45-55 | 2370×1700×2390 |
| PF-1210 | Φ1250×1050 | 400×1080 | 350 | 70-130 | 6P 110 | 2680×2160×2800 |
| PF-1214 | Φ1250×1400 | 400×1430 | 350 | 80-180 | 6P 132 | 2650×2460×2800 |
| PF-1315 | Φ1320×1500 | 860×1520 | 500 | 100-280 | 6P 200 | 3180×2720×3120 |
| PF-1320 | Φ1300×2000 | 993×2000 | 500 | 140-380 | 6P 250 | 3220×3100×3120 |
| PF-1520 | Φ1500×2000 | 830×2040 | 700 | 200-550 | 4P 315-400 | 3959×3564×3330 |
| PF-1820 | Φ1800×2000 | 1260×2040 | 800 | 300-800 | 6P 630-710 | 4400×3866×4009 |
FTM Series Counterattack Break Secondary Counterattack Break (Fine Break)
Model
Maximum Feeding Size(mm)
Crusher weight
Containing hopper(kg)
Power(kw)
Processing
capacity(t/h)
FTM100S
300
11380
160
60-210
FTM120S
350
18112
200
80-300
FTM140S
350
29650
400
150-700
FTM Series Counter-break Primary Counter-break (Coarse Break) Applicable to Construction Waste Crushing
Model
Maximum Feeding Size(mm)
Crusher weight
Containing hopper(kg)
Power(kw)
Processing
capacity(t/h)
FTM100P
600
10940
160
60-210
FTM120P
900
17252
200
80-400
FTM140P
1000
27750
315
200-700
Model
Rotor
(mm)
The Maximum Feeding Size
(mm)
Capacity
(t/h)
Motor power
(kw)

Overall dimension
(L×W×H)
(mm)

Weight
(kg)
-150MPa
-350MPa
HD1110
Φ1040×1000
400
200
90~190
4P 90-132
3000×2360×2385
15875
HD1315
Φ1300×1500
700
300
180~280
4P 200-270
3735×3156×3055
29600
HD1520
Φ1500×2000
1000
400
350~500
4P 400-500
4310×3330×3660
42000
HD1625
Φ1650×2500
1300
500
500~670
4P 500-670
5540×4330×4600
66000
| | | | | |
| --- | --- | --- | --- | --- |
| Model | Maximum Feeding Size (mm) | Power (kw) | Capacity (t/h) | Dimensions(L×W×H)(mm) |
| CI1110 | 250 | 160 | 60-210 | 2826×2087×2285 |
| CI1213 | 300 | 200 | 80-280 | 2903×2530×2411 |
| CI1316 | 300 | 250 | 100-350 | 3320×2770×2535 |
| CI1521 | 350 | 2×(200-250) | 200-600 | 3450×3620×2770 |
| | | | | |
| --- | --- | --- | --- | --- |
| Model | Maximum Feeding Size (mm) | Power (kw) | Capacity (t/h) | Dimensions(L×W×H)(mm) |
| CI1313 | 600 | 200 | 100-480 | 2972×2560×2937 |
| CI1415 | 600 | 250 | 120-600 | 2985×2790×3068 |
| CI1620 | 800 | 2×(200-250) | 220-900 | 4261×3480×3780 |
| CI2023 | 800 | 2×500 | 400-2000 | 5151×4424×4712 |