- Applicable Materials:
The magnetic separator is suitable for iron magnetite, pyrrhotite, roasting ore and ilmenite, whose particle size is no more than 3 mm.

How it works
After entering the tank through the ore tank, the slurry is turned into ore particles under the action of the water flow to the mine spout and enters the feeding area of the tank. Due to the magnetic field, the magnetic ore particles are magnetically aggregated to form a "magnet" or "magnetic flux". Subjected to magnetic force in the slurry, it moves toward the magnetic pole and is adsorbed on the surface of the cylinder.When the "magnet" or "magnetic flux" rotates with the cylinder, alternated magnetic poles contribute to the magnetic mixing phenomenon, therby causing non-magnetic minerals such as gangues in the "magnet" or "magnetic flux" to fall off. The "magnet" or "magnetic flux" that is ultimately adsorbed on the surface of the cylinder is the concentrated ore.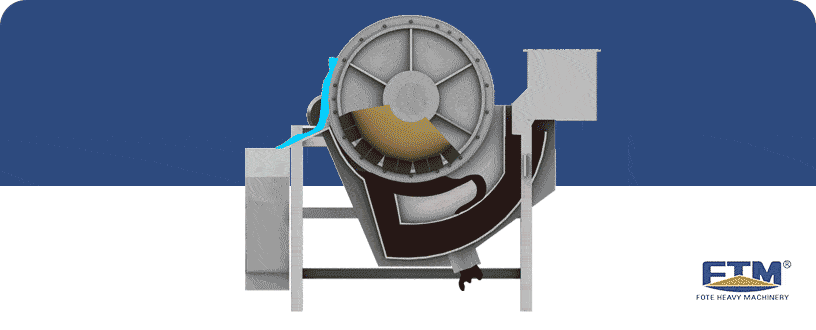 Advantages
A Wide range of applications

It can be used for coal mines, foundry sands, refractory materials, and other iron removing operations.

High Performance

High-performance permanent magnets are added to the magnetic structure to ensure that the magnetic property is not lost even under high flow conditions.

High Product Quality

In ceramic industry, it can be used to remove the mixed iron from the porcelain mud, thus improving the quality of ceramic products.
case
- The production line of magnetically separating iron ore
iron ore

Capacity: 150 t/h
- PE-600×900 jaw crusher
- two Ф4500×6400 ball mills
- a FG-5 spiral classifier
- three CTB9021 magnetic separators
- a NZS-12 concentrator
- three Φ3.2×25 dryers
FTM Machinery sent their technical engineers to our factory for on-the-spot investigation, designing and configuring a complete production line for us. They were very responsible for the on-site installation and commissioning of the entire project. We have already used them for two years, and there are few failures. More importantly, the production line has high output and low cost.
Specifications
Model
Shell diameter
(mm)
Shell lenght
(mm)
Shell rotation
speed(r/min)
Feeding size
(mm)
Processing capacoty
(t/h)
Power(kw)
CTB6012
600
1200
<35
2-0
10-20
1.5
CTB6018
600
1800
<35
2-0
15-30
2.2
CTB7518
750
1800
<35
2-0
20-45
2.2
CTB9018
900
1800
<35
3-0
40-60
3
CTB9021
900
2100
<35
3-0
45-60
3
CTB9024
900
2400
<28
3-0
45-70
4
CTB1018
1050
1800
<20
3-0
50-75
5.5
CTB1021
1050
2100
<20
3-0
50-100
5.5
CTB1024
1050
2400
<20
3-0
60-120
5.5
CTB1218
1200
1800
<18
3-0
80-140
5.5
CTB1224
1200
2400
<18
3-0
85-180
7.5
CTB1230
1200
3000
<18
3-0
100-180
7.5
CTB1530
1500
3000
<14
3-0
170-280
11