Applicable Materials
all kinds of ferrous and non-ferrous metal ores, such as iron ore, copper ore, zinc ore, gold ore, tin ore, manganese ore, lead ore, chrome ore, and aluminum ore.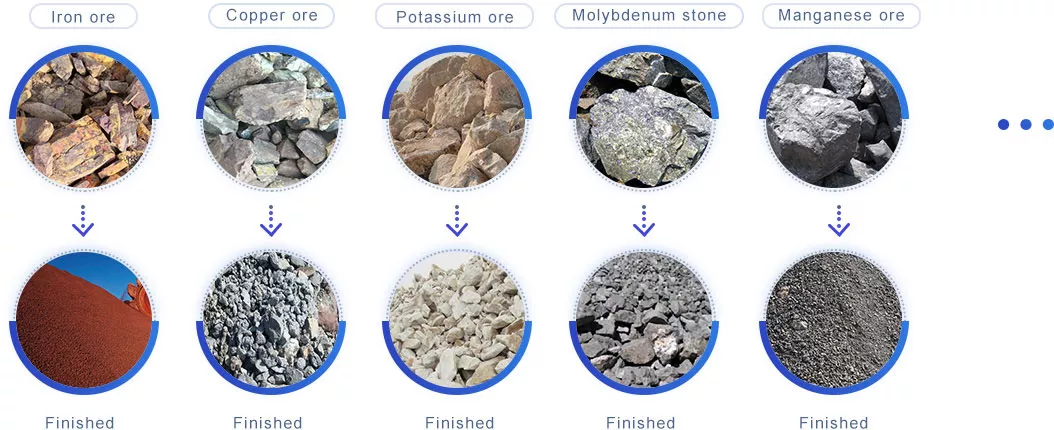 Equipment Needed
a complete ore beneficiation production line consists of a vibrating feeder, a crusher, a vibrating screen, a ball mill, a dryer, a concentrator, a magnetic separator or flotation machine and a spiral classifier.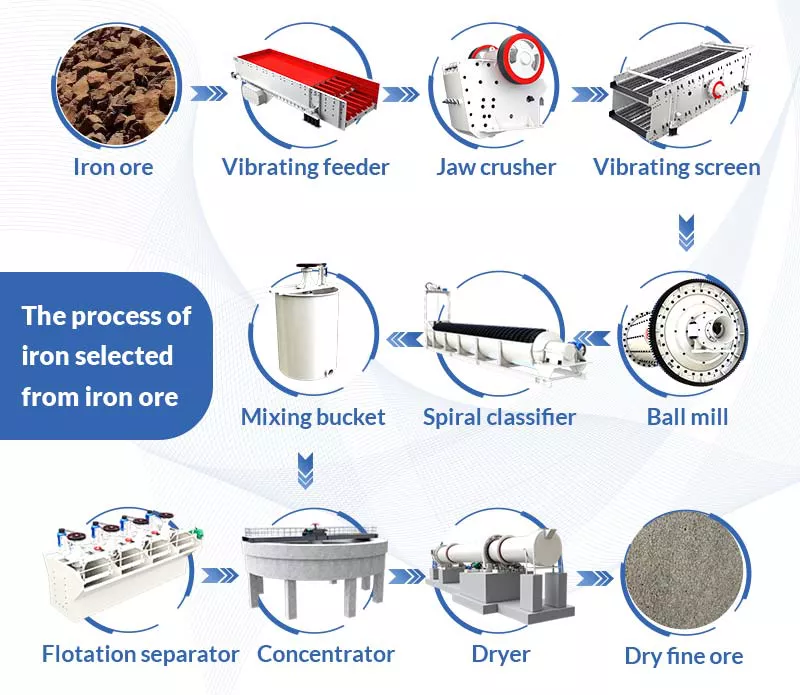 Preparation before Ore Dressing
The preparation usually consists of two stages: crushing and mineral grading. In order to separate useful minerals from ore, the ore should firstly be crushed. Sometimes in order to meet the requirements of the material size of the subsequent work, it is necessary to add a certain crushing operation.
Crushing: The minerals from the mining mountain whose size is 500-1500mm is firstly crushed into that of 5-25mm.
Grinding: under the milling and impacting force, the materials are grinded into those of 10-300μm by the rod mill, ball mill, autogenous tumbling mill and semi-autogenous tumbling mill.
Screening and grading: The useful minerals are selected in the crushing process or graded by size.
Ore Dressing
The ore will be sorted after being crushed and the useful minerals and gangue are selected, or the various useful minerals are separated from each other, which is the main part of the beneficiation. The ore dressing methods include magnetic separation, gravity separation, froth flotation, electrification, and chemical separation.
Magnetic Separation
Magnetic separation is perfomed in an inhomogeneous magnetic field using the difference in magnetic properties of the mineral particles. Those minerals with strong magnetism are selected by the magnetic separator with weak magnetic field, such as magnetite and pyrrhotite; whereas those with weak magnetism are sorted by that with strong magnetic field, such as hematite, siderite, ilmenite and wolframite.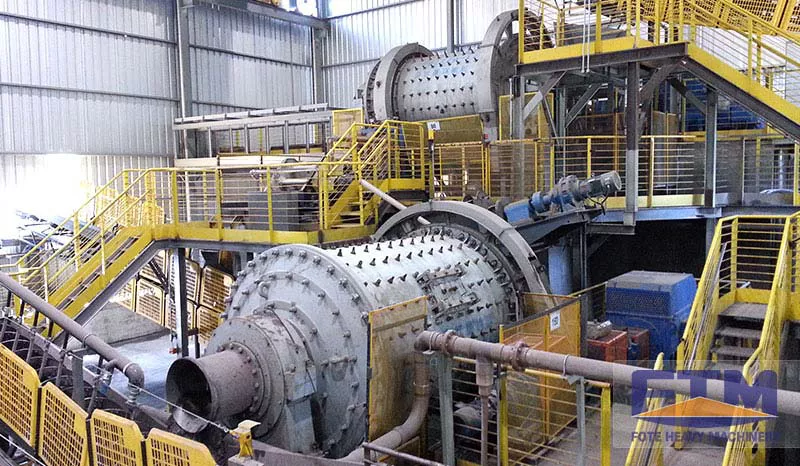 Froth Flotation
The froth flotation is an essential concentration process. In this process, several kinds of particles are separated by the surface chemistry of the particles. Additionally, it can handle materials whose size is less than 0.2 to 0.3 mm and it can also be used to select intermediate products in metallurgy as well as ions, treat wastewater. As is manifested in statistics, more than 90% of non-ferrous metal is separated in a flotation separation process.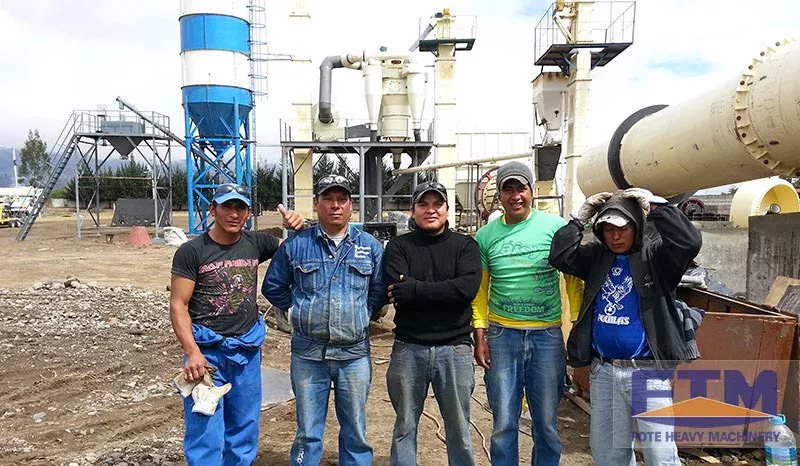 Gravity Separation
Gravity separation refers to the sorting operation based on the specific gravity of the mineral raw material particles. Gravity separation is the main processing method for selecting black tungsten ore, cassiterite, gold, coarse iron and manganese ore; and it is also widely used for rare metal ore. This method tends to cut much cost and cause little environmental pollution.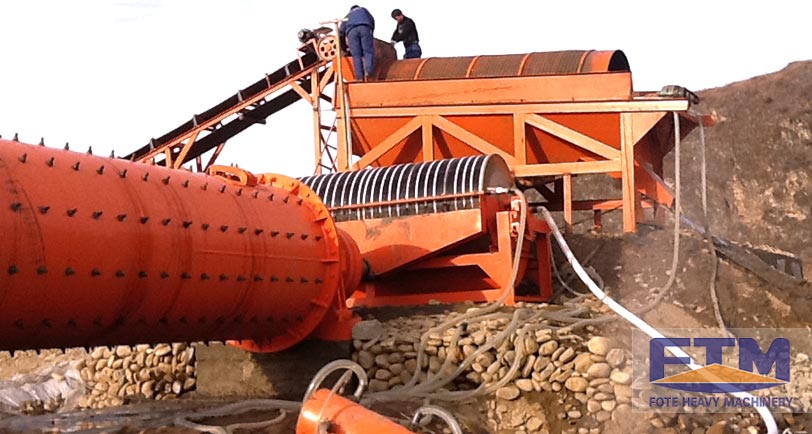 Dewatering after Ore Dressing
Since most of mineral processing products are wet, it is necessary to remove the moisture from the mineral processing products before smelting. Dewatering operations are often carried out by means of concentration, filtration and drying.
Concentration is the action of gravity or centrifugal force to precipitate solid particles in the beneficiation product to remove part of the water, which is usually carried out in a concentrator.
Drying, the final stage of dehydration, refers to the reducing of moisture according to the principle of heating and evaporation. However, it is only used when the dehydrated concentrate needs to be dried. This operation is generally carried out in a dryer.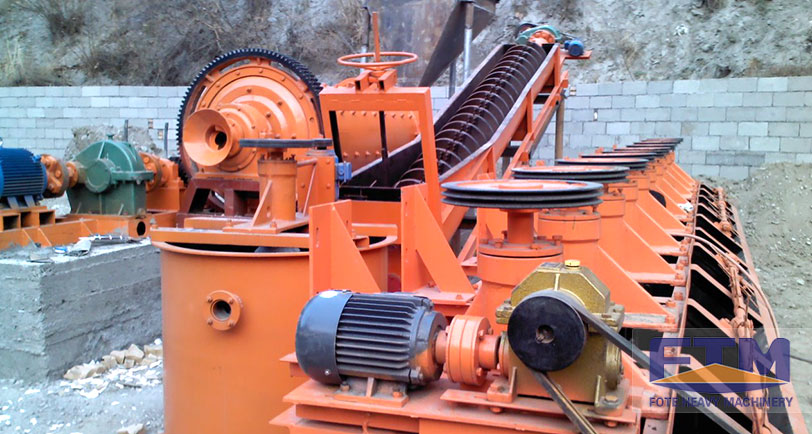 Brief Introduction about the Ore Dressing Process
The materials are firstly sent into the crusher for primary crushing through the vibrating feeder, and then into the ball mill for further grinding. After that, the crushed materials are into the spiral classifier for washing and grading. The flotation cell or the magnetic separator will further process them for ore separation. The concentrator and rotary dryer are finally used for drying and dewatering and the materials that come out of the concentrator are the valuable minerals. Additionally, the two mentioned machines are optional and you can make a decision relied on your actual needs.
Advantages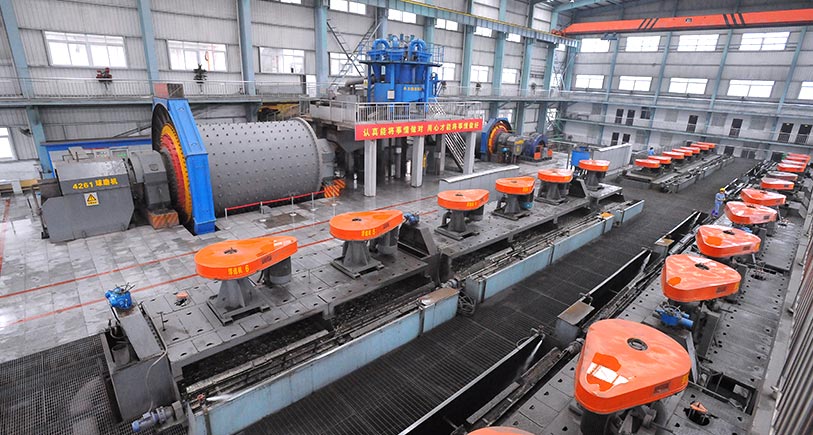 225 t/h mobile crushing station
Customized solutions with stable operation and high productive efficiency.
Highly pure finished products processed through multiple processes.
High-quality ore dressing machines with long service life.
Providing low production costs and easy operation.
Achieving energy saving effect of more than 70% by effectively realizing the recycling of water resources and greatly saving water cost.
Increasing the automation of the entire production line by more than 2 times.
Increasing beneficiation efficiency by more than 30% with stable operation process and low failure rate.
Decreasing dust and noise to ensure great environmental effects.