- Applicable Materials:
The spring cone crusher is generally used for finely and ultra-finely crushing rocks, ores, slag, refractory materials with medium or high hardness, such as iron ore, copper ore, limestone, quartz, granite, basalt and diabase. The final products' granularity can be adjusted according to your actual needs to achieve the best results.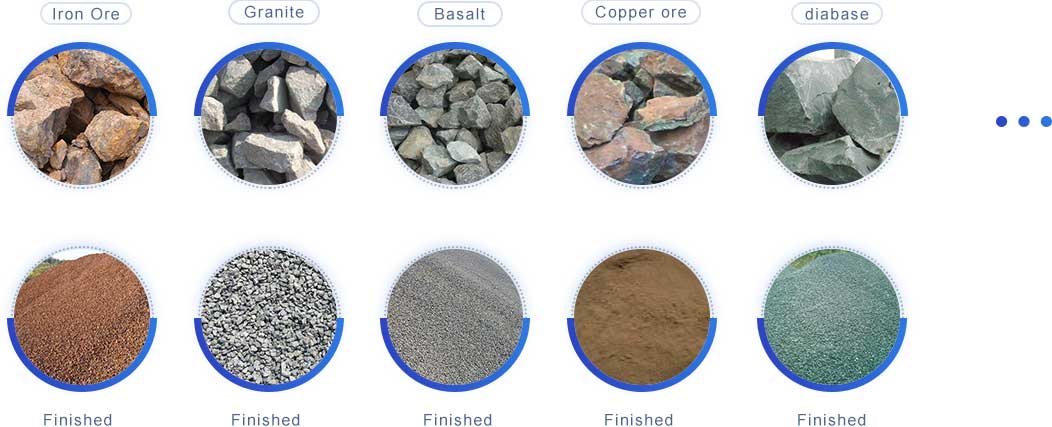 How it works
When the spring cone crusher begins to run, the motor drives the large cone gear at the bottom of the eccentric sleeve through the hydraulic coupling and the small cone gear to rotate the eccentric sleeve, causing the cone to swing and crush. Since the main shaft does not move and the eccentric sleeve transmits the crushing force, the machine that can bear large crushing force is very suitable for fine and ultra-fine crushing.
Performance
Thanks to the spring protection and safety devices, its downtime is greatly reduced.

The machine is made of cast steel structure and its reinforced ribs are set at the heavy load parts.

It can quickly adjust the size of the crushed material due to the adjuster.

Owing to a complete lubrication system, it can automatically shut down in case of too high temperature or too slow flow rate.

The internal structure has good sealing performance so that it can effectively protect the equipment from dust or other small particles.

The hydraulic motor takes the place of the hydraulic push rod and the ore discharge port is accurately adjusted; therefore, the fixed cone assembly can be removed in 10 minutes.
p

rice

There are many factors influencing the price of stone crushers such as specifications, quality, regions, market demands and so on.

As a direct seller of mining machines, FTM Machinery sells the stone crusher at the ex-factory price, lower than the market price. In addition, we often offer some big price cuts to benefit more and more customers. All customers are welcome to inquire about the price online or to visit our factories at any time.

case
- The aggregate production line
aluminum ore

Capacity: 650 t/h
- the spring cone crusher
- the VSI sand maker
- the vibrating screen
- some belt conveyors
The sandstone aggregate production line introduced by Fote Machinery has reasonable layout and process flow, and its conveying lines are smooth and flexible. The finished products can meet engineering needs in quantity, quality and strength so the line has become our main sand aggregate production line.
Specifications
Specification
Model
Diameter
of large
end of
crushing
cone
(mm)
Max.feeding
size(mm)
Width of
discharge
opening
(mm)
Processing
capacity
(t/h)
Motor
power
(kw)
Total
weight
(t)
Dimensions
(L×W×H)
(mm)
Φ600
PYB600
600
65
12-25
40
8P 30
5
2234×1370×1675
PYD600
35
3-13
12-23
5.5
2234×1370×1675
Φ900
PYB900
900
115
15-50
50-90
8P 55
11.2
2692×1640×2350
PYZ900
60
5-20
20-65
11.2
2692×1640×2350
PYD900
50
3-13
15-50
11.3
2692×1640×2350
Φ1200
PYB1200
1200
145
20-50
110-168
8P 110
24.7
2790×1878×2844
PYZ1200
100
8-25
42-135
25
2790×1878×2844
PYD1200
50
3-15
18-105
25.3
2790×1878×2844
Φ1750
PYB1750
1750
215
25-50
180-360
8P 160
50.3
3910×2894×3809
PYZ1750
185
10-30
80-210
50.3
3910×2894×3809
PYD1750
85
5-13
60-180
50.2
3910×2894×3809
Φ2200
PYB2200
2200
300
30-60
420-700
8P 280-260
80
4622×3302×4470
PYZ2200
230
10-30
130-410
80
4622×3302×4470
PYD2200
100
5-15
80-200
81.4
4622×3302×4470