- Applicable Materials:
construction waste and all kinds of rocks and ores, such as river pebble, granite, basalt, iron ore, limestone, quartz, coal gangue, diabase, construction waste, iron ore, gold ore, etc.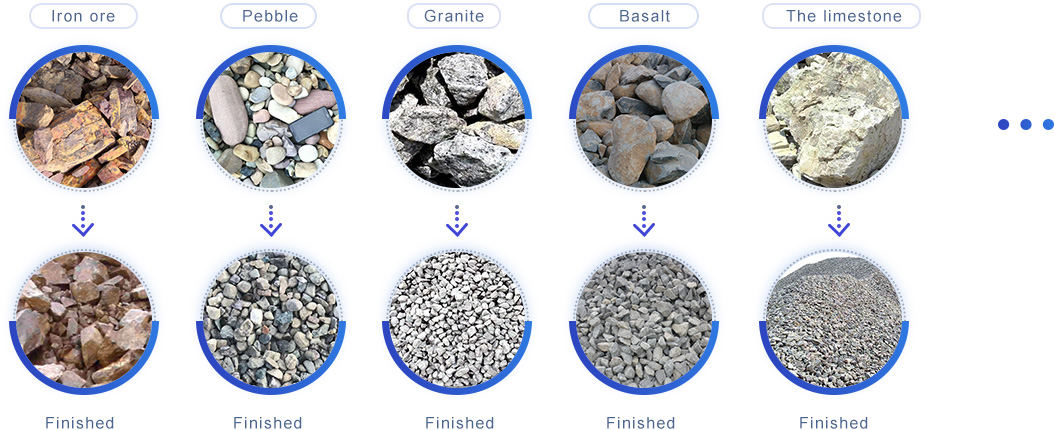 Equipment Needed
A complete stone crushing production line consists of a vibrating feeder, a jaw crusher, an impact crusher or a cone crusher, a vibrating screen and belt conveyors.
Advantages
A Wide Range of Applications

As one of the commonly used production lines, this stone crushing production line can process more than 200 kinds of materials, such as pebbles, granite, bluestone, iron ore, limestone, quartz and so on.

Energy-saving and Eco-friendly

It is equipped with dust and noise reduction devices to cut dust and noise pollution and to meet national production standards.

High Practical Values

The crushed stone is credited with uniform particle size, good granular shape and reasonable gradation. And the finished product 's size can be adjusted according to customers 'needs, thus suitable for the construction of large, medium and small projects such as highway bridges, with high industrial value and good market sales.

High Degree of Automation

In the whole process, except for shutdown and regular maintenance, almost no manual operation is required. Also, the consumption of wearing parts is greatly reduced by 20%, saving much cost for investment.
Brief Introduction about the Crushing Process
The materials are firstly sent into the primary crusher by the feeder to be initially crushed. After that, the processed ones are transported by the belt conveyor to the impact crusher or cone crusher for further crushing and then are divided into different kinds of stone according to the specification. Those that do not meet the requirement for discharging size will enter the crusher and be broken again.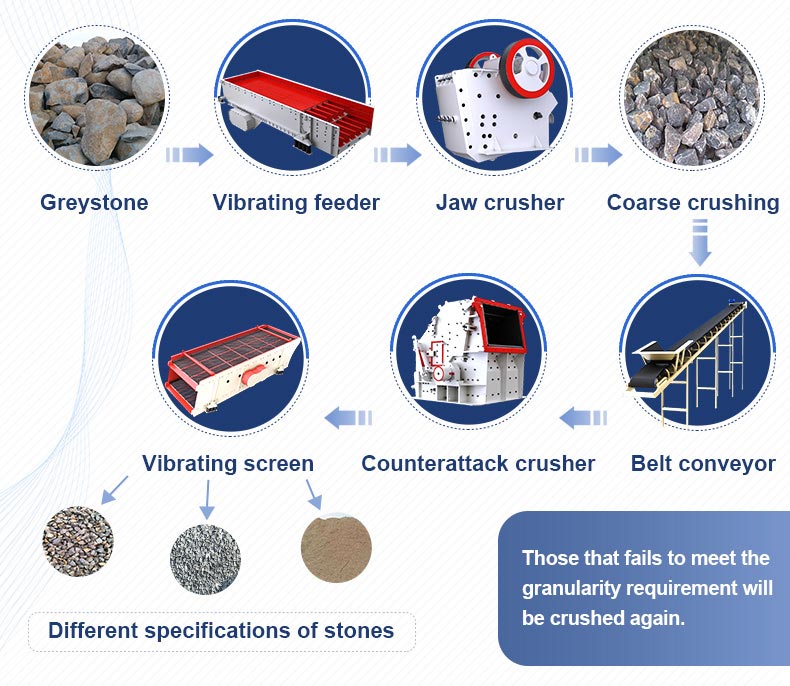 case
- The Stone Crushing Production Line in South Africa
limestone

Capacity: 1000t/h
- a vibrating feeder
- a PE jaw crusher
- an impact crusher
- a vibrating screen
- belt conveyors
The crushing production line designed by Fote is highly automated during operation, saving a lot of manpower investment costs, and has no dust and noise pollution, thus achieving great environmental protection effect. Moreover, this cost-effective crushing plant is ideal for processing limestone.