- Applicable Materials:
limestone, basalt, river pebble, granite, quartz, iron ore, diabase, etc.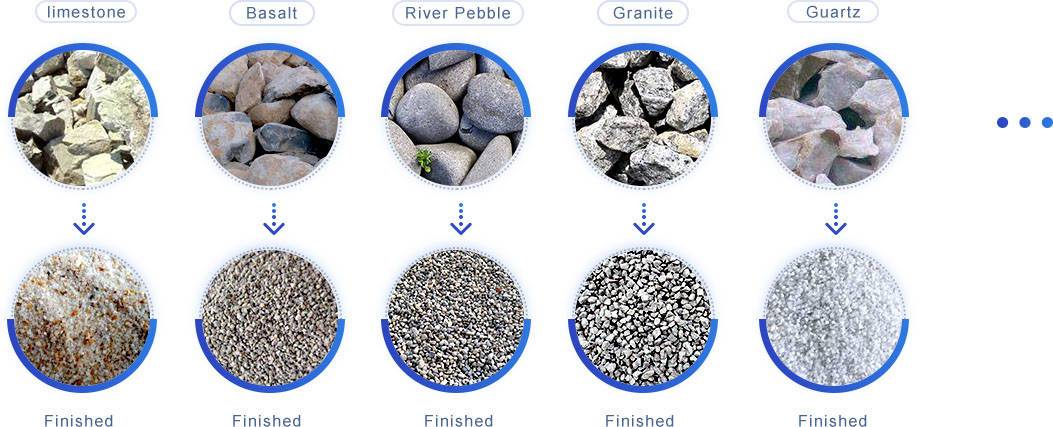 Working principle
After entering the sand making machine from the feeding hopper, the material is divided into two portions by the feeder. A large portion of the materials enters the impeller that rotates at a high speed, and is thrown at a speed of 60-70 m/s from three channels of the impeller under the action of high-speed centrifugal force. Then they hit the other portion of the materials falling from the periphery of the feeder and are crushed. After that, the materials are thrown onto the material lining of the vortex cavity, obliquely rebound upward to the top of the vortex chamber, and then deflect down into the channel of the impeller. Finally, they are discharged from the channels of the impeller. All the materials are subject to impact, friction, grinding and crushing in the vortex chamber two or more times.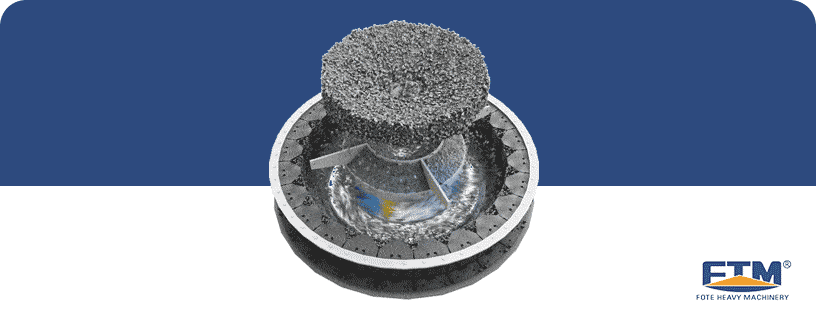 Advantage
Low cost

The Reasonable and simple structure cuts costs in the operation.

Shaping function

The machine has functions of fine crushing, coarse grinding and shaping, contributing to high crushing efficiency.

A Wide range of materials

It is suitable for crushing materials with medium and high hardness. In addition, it is rarely affected by wet materials and the moisture content can reach 8%.

Energy-saving and Eco-friendly

The sand maker produces little dust pollution and the noise of less than 75 decibels when in use.
Classification
Fote has produced three kinds of sand makers, that is, HVI impact sand makers, vertical shaft impact crushers and VSI sand makers.
I. The HVI impact sand maker has two functions of sand making and shaping. Compared with other machines, its better shaping effect increases the throughput by 30%.
II. The vertical shaft impact crusher is the essential equipment for construction, mining, metallurgy, highway and railway construction, bridge, hydropower, mineral grinding and artificial sand making industry at home and abroad.
III. The VSI sand maker provides high-quality sand and gravel aggregates for road and railway construction, high-rise buildings construction, municipal engineering and hydropower dam construction, concrete mixing stations, and others.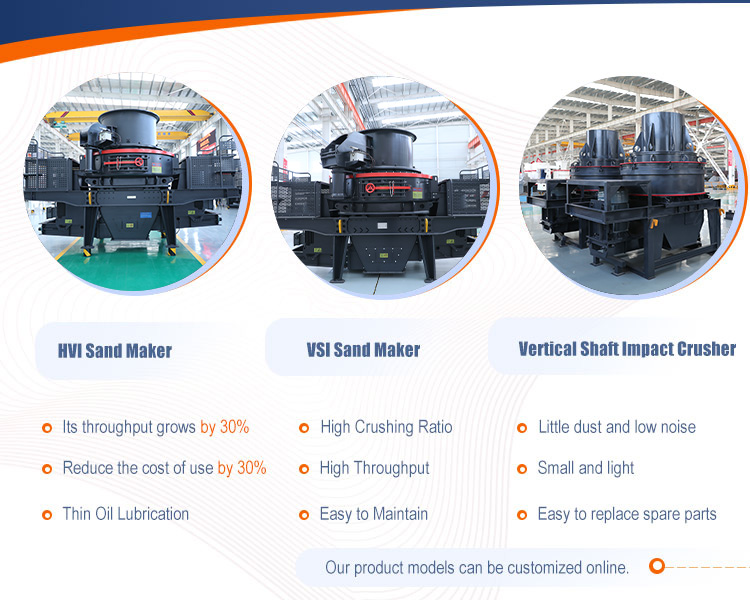 p

rice

With 40 years of experience, FTM Machinery has been in line with market demands and improved product quality and technology for many times.

Our sand making machine has the advantages of uniform particle size, low energy consumption and stable operation. As is known to all, the price of the sand making machine varies with model, materials and technology. All customers are welcome to consult the price online or to visit our factories at any time.

case
- The production line of sand making in Indonesia
granite

Capacity: 200 t/h
- a SC160 cone crusher
- a HVI1250 sand maker
- two 3020 sand washers
- a 2YK2460 vibrating screen
- some belt conveyors
I am very satisfied with the line designed by FTM Machinery. It is well-equipped, safe and cost-effective, and also has a low failure rate and low costs. And its price is very convincing.
Specifications
HX Sand Making Machine

VSI Sand Making Machine

HVI Sand Making Machine
Model
specification
Max.feeding
size
(mm)
Power
(kw)
Rotation
speed of
impeller
(r/min)
Capacity
(t/h)
Overall
dimension
(L×W×H)
(mm)
FTM-06
35
2P 37-55KW
2000-3000
12-30
2500×1620×2600
FTM-07
45
4P 55-75KW
1500-2500
25-55
2700×1760×2800
FTM-09
50
4P 110-150KW
1200-2000
55-100
3900×2000×3070
FTM-10
60
4P 150-180KW
1000-1700
100-160
4600×2350×3450
Model
Hard material
Soft material
Sand Shaping
Sand Making
Motor Power(kw)
Max.Feeding Size (mm)
Throughput(t/h)
HVI 0815
<30
<35
50-140
90-230
2×75
HVI 0818
<30
<35
60-190
110-283
2×90
HVI 0922
<35
<40
70-210
150-330
2×110
HVI 0926
<35
<40
85-240
170-380
2×132
HVI 1032
<40
<45
130-278
180-356
2×160
HVI 1040
<40
<45
180-284
250-440
2×200
HVI 1263
<50
<55
320-498
370-585
2×315
Model
VSI 7611
VSI 8518
VSI 9526
VSI 1140
VSI 1145
VSI 1150
Capacity
(t/h)
Feed both at center and sides
80-180
140-260
200-380
300-520
350-610
360-650
Feed at center
40-90
70-130
100-190
160-260
180-355
190-365
Max.feeding size
(mm)
Soft material
35
40
45
50
50
50
Hard material
30
35
40
40
45
45
Rotation speed(r/min)
1700-1890
1520-1690
1360-1510
1150-1300
1150-1300
1150-1300
Motor power(kw)
4P 110
4P 180
4P 264
4P 400
4P 440
4P 500
Overall dimension(L×W×H)(mm)
4100×2250×2300
4160×2320×2900
4560×2450×2830
5500×2700×3100
5500×2700×3100
5500×2700×3100
Note:processing Capacity May Vary With Different Materials And Feeding Sizes.